All of our Services come with a Guaranteed live birth or a free return service.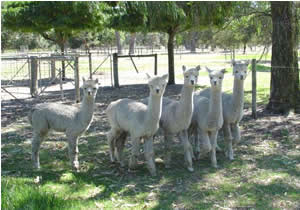 We offer highly competitive prices on our Stud Services and your girls can come and stay at no additional cost while being mated. We have a range of top quality stud males available and offer expert advice on choosing a Sire.
Our Guarantee
At Thief of Hearts Alpaca Stud we offer what we believe are the best reproductive guarantees in the business.
All of our Mating's come with a Live Cria Guarantee or a Free Return Service.
All of our Mating's are a one on one basis in our specially designed yards, no paddock Mating's.
There is no charge at all while your girls stay to be mated, no matter how long it takes.
We will provide you with Conformation of Pregnancy using, Spit offs and an Ultrasound Scan at 60 Days.
We will provide any Routine Veterinary Care that is required while your animals are at our place being mated at no extra cost.
We will carry out regular Herd Health Procedures when they are required at no extra cost.
Full Computer Records on all Matings and all health care are kept on every female which will be printed out for you to take home when your female returns home to you.
If you have no way of transporting your girls to our place, we will pick them up and deliver them back home to you free of charge.
All of our Studs have Histogram printouts for you to look at. We update these every year when the animals are shorn.
As an introductory offer only we will give you a FREE return service next season if your Cria born is a male. We believe that we are the only breeder in New Zealand doing this.
We believe that when you pay for a Stud Service that the Cria should be better than its Dam, if not then we will re-mate your female free of charge.
Our Guarantee is just one of the many reasons why you should deal with us. Check out our Stud Males and please contact us if you would like advice on choosing a Sire or any further information.