Premier Stratos
Premier Stratos was loaned to us in 2016 by his owners and breeders Dave and Fran Goulden.
We needed a new male and Dave said this boy will not let you down. Well he hasn't let us ndown and we were so impressed with the Cria he left on the ground, we offered Dave and Fran a price for Stratos they could not refuse.
So in 2018 ve purchased Premier Stratos and he joined our Stable of top qulity Stud Males.
Stratos was not halter trained when he first arrived and he took a wee while to decide that having a halter on and being led to the girls was not such a bad idea. It is always entertaining halter training a 10 year olf Male, but he walks really well now.
Stratos had only ever been used very sparingly and only had a hand full of Cria on the ground.
It is amazing that a Male of this quality has gone on undetected for so long.
Stratos being unknown is about to change …………………..
"Premier Stratos" in 2016 as an 8 year old.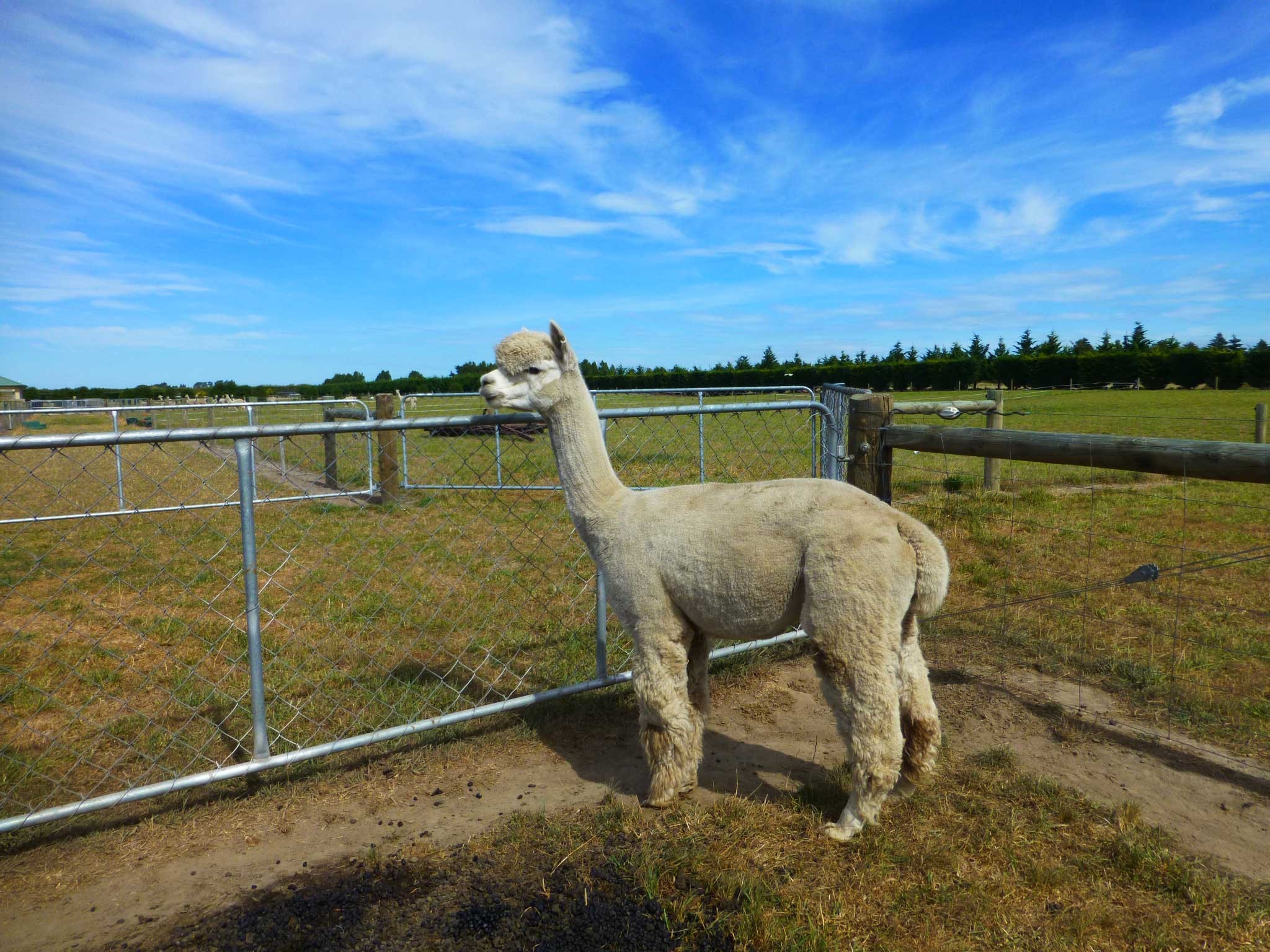 Stratos has a very dense, fine fleece that is extremely soft to the handle and has an incredible white brightness to it.
He is a placid gentle male that is easy to handle and his offspring exhibit the same traits.
When his first Cria arrived on the ground, the first thing we noticed was that they had no Medulated fibres anywhere on them. Their fleeces were very thick and were a mass of curls and had a very slippery feel to them.
It was when they reached about 10 weeks of age that we could see how they were developing and then we started to get excited.
Last year we put some of our very best females to him and that proved to be a very good move. This season we have put him over a range of females, including some coloured females to see what he does with them.
We are really looking forward to see what he does with these females.
Pedigree:
As you can see from his Pedigree below, Premier Stratos has a very impressive background with a double cross of Highlander.
| | |
| --- | --- |
| Ident No: | NZ1 D0577 |
| Sex: | Male |
| IAR: | 93577 |
| Birth Date: | 24/03/2008 |
| Status: | Active |
| Breeder: | DAVID & FRAN GOULDEN |
| Current Owner: | ERIC LISTER |
| Current Owner Region: | Manawatu/Wanganui |
| Type: | Huacaya |
| Colour: | Solid White |
| Certified?: | Yes 01/07/2010 |
| DNA No.: | 889471 |
| Progeny: | [8 - View] [View by Herd] |
---
"The Fleece Type Premier Stratos produces"
Pictured above is a fleece shot of one of Stratos's Cria.
We mated him last season to Homestead Farm Sophie Ella and the result is a Male Cria (as yet to be named) who is looking just fantastic.
This young male will be grown up and I am sure he will become a Stud Male in his own right.
That's 2 boys in a row for Sophie Ella, hoping for a girl this season.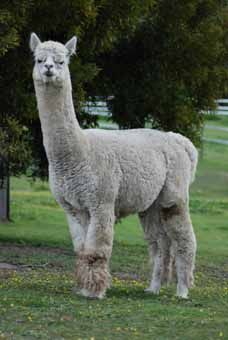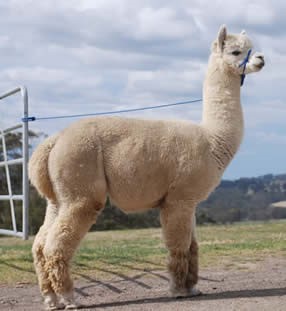 His Sire "Windsong Valley Iceman IAR: 29429"
Pictured above is Stratos's Sire ………… Windsong Valley Iceman
DOB: 10/01/1999
Sire: Purrumbete Highlander
Dam: Purrumbete Ice Star
Iconic Australian 'Back to Back' National Champion
'Supreme Champion' National Show both in 2001 and 2002.
'Supreme Fleece' National Show 2000,2001,2002.
Perth Royal Supreme in 3 successive years
Winner National Sires progeny 2004
Sire of countless Supreme champions, and progeny classes.
At his home at Coolawarra at 10 years of age, this male looks and feels like a 2 year old.
Iceman has exceptional balance and proportion, a straight backline and a proud, alert stance.
His fleece remains soft and silky to touch and, a month off shears unlike others in the species, the saddle is free of tell-tale primary fibre growth, an expected result when his CV remains at 18.1 at this age.
Windsong Valley Iceman
HISTOGRAM:
1999: 17.6u, 4.1sd, 23.3cv.
2000: 19.4u, 3.5sd, 18.0cv.
2001: 22.5u, 4.2sd, 18.7cv.
2002: 24.1u, 4.4sd, 18.2cv.
2003: 23.2u, 4.8sd, 20.6cv.
2004: 25.3u, 5.0sd, 19.8cv.
2005: 25.5u, 4.3sd, 17cv.
2007: 24.8u, 4.5sd, 18.1cv, 23.6sf
Described by his previous owners, as a Champion of Champions if you have a look at Coricancha's and Windsong Valley show records you will see this is the case.
Whiteman Park Show Results 2004: Iceman's progeny won Junior Champion Female, Junior Champion Male, Intermediate Champion Male, Supreme Champion, Supreme Champion Fleece, 1st in Progeny Class & 2nd in Progeny Class. Since then Iceman's progeny have taken their rightful place as show winners producing Supreme Champions, Champions, Progeny Class winners and numerous blue ribbon winners.
Premier Stratos Stud Fee: $1,000.00 +gst
Our Special Reproductive Guarantee applies to all of Justice's Cria.