Wyona Lengendary
Wyona Legendary was bred and then saved for us by our very good friend Karen Caldwell.
Karen knew we were looking for a very special Fawn Male and actually bred and then put aside and thgen offered us the first option on purchasing this stunning male back in 2016 …………
Karen really rated this young male and she believed he would produce some stunning Cria.
Legendary's Dam was Karen's best female (in her own opinion) and this is another reason she believed Legendary would produce wonderfull coloured offspring.
Legendary's Sire is "kiwi Legend" who was bred by Dave and Fran Goulden here in NZ and was later bought by Natasha Clark who is an Australian Judge.

Wyona Legendary at 3 years of age …………….
Legendary has perfect conformation, with a very upright stance and he stands out in the paddock because of his presence. He is truly a beautiful looking Alpaca.
His fleece is long and soft and he pumps out a huge beautiful soft handling fleece with a beautiful highly aligned crimp style.
Is Legendary a grey in disguise?
We believe that Legendary is a grey animal in disguise ………… He has a half white bonnet like a typical grey animal. We are picking that as he ages he will develop a roan fleece ……….. Time will tell.
But his second Cria born was a Roan Grey out of a brown Dam so we are pretty sure there will be more grey Cria to come from him in the future.
Why use a Fawn Male over Grey and Black Females?
We believe that when you use a Medium or Dark Fawn male over Grey, Black or coloured animals that you more often than not will get a Cria the same colour as the Dam but with a superior fleece ……………. Over 20 years of breeding allows us to make this claim ………..
Pedigree:
As you can see from his Pedigree below, Wyona Legendary has some amazing animals in his background.
| | |
| --- | --- |
| Ident No: | WAS L0510 |
| Sex: | Male |
| IAR: | 220678 |
| Birth Date: | 14/11/2015 |
| Status: | Active |
| Breeder: | KAREN CALDWELL (AUS) |
| Current Owner: | ERIC LISTER |
| Current Owner Region: | Manawatu/Wanganui |
| Type: | Huacaya |
| Colour: | Solid Medium Fawn |
| Certified?: | Yes 02/10/2017 |
| DNA No.: | 220678 |
| Progeny: | None |
---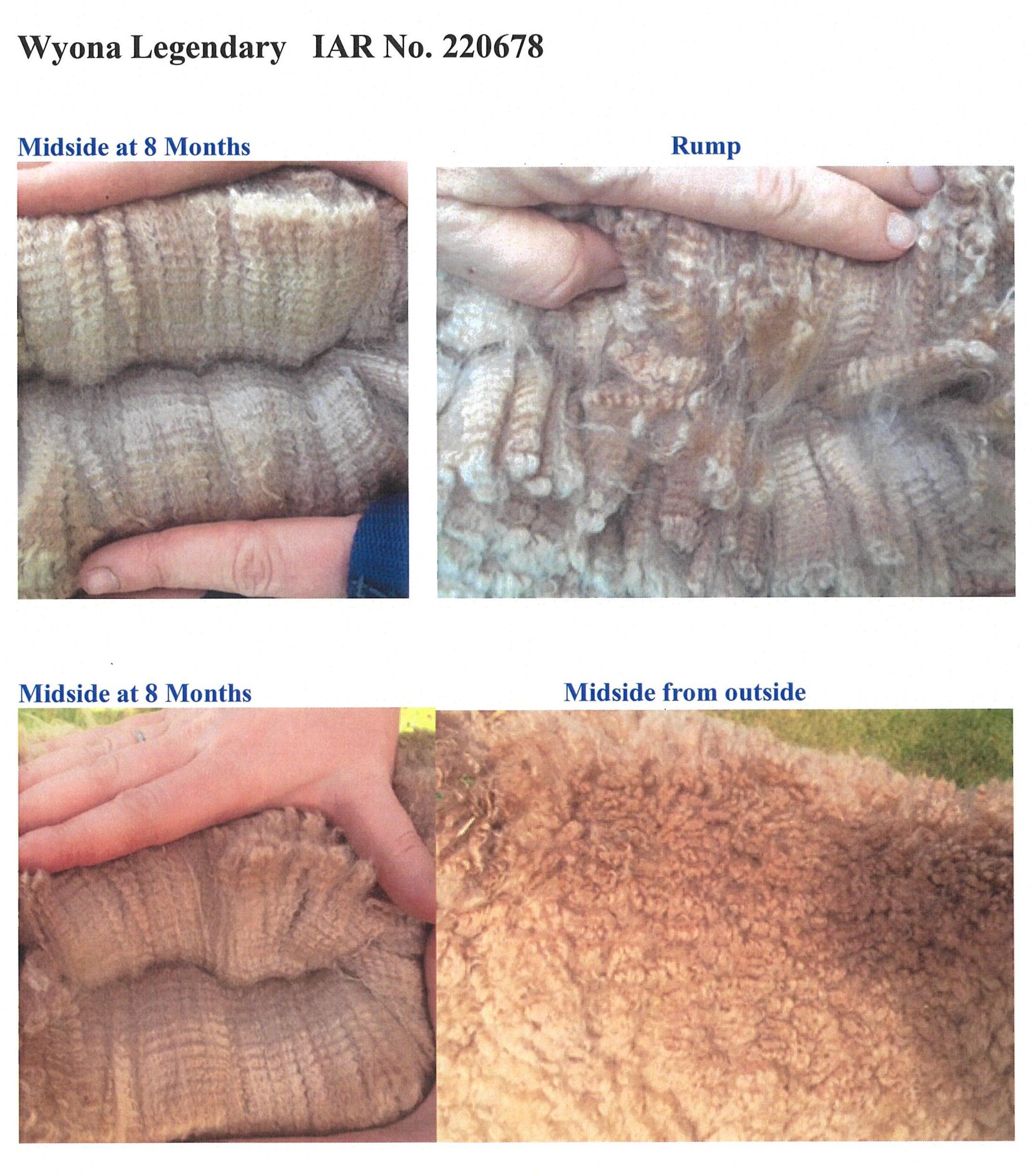 "Fleece pics of Legendary's fleece when we purchased him"
The picture of the fleece on Legendary's Rump is exactly the fleece type we are looking to breed, the density along with the handle and fleece structure is simply superb.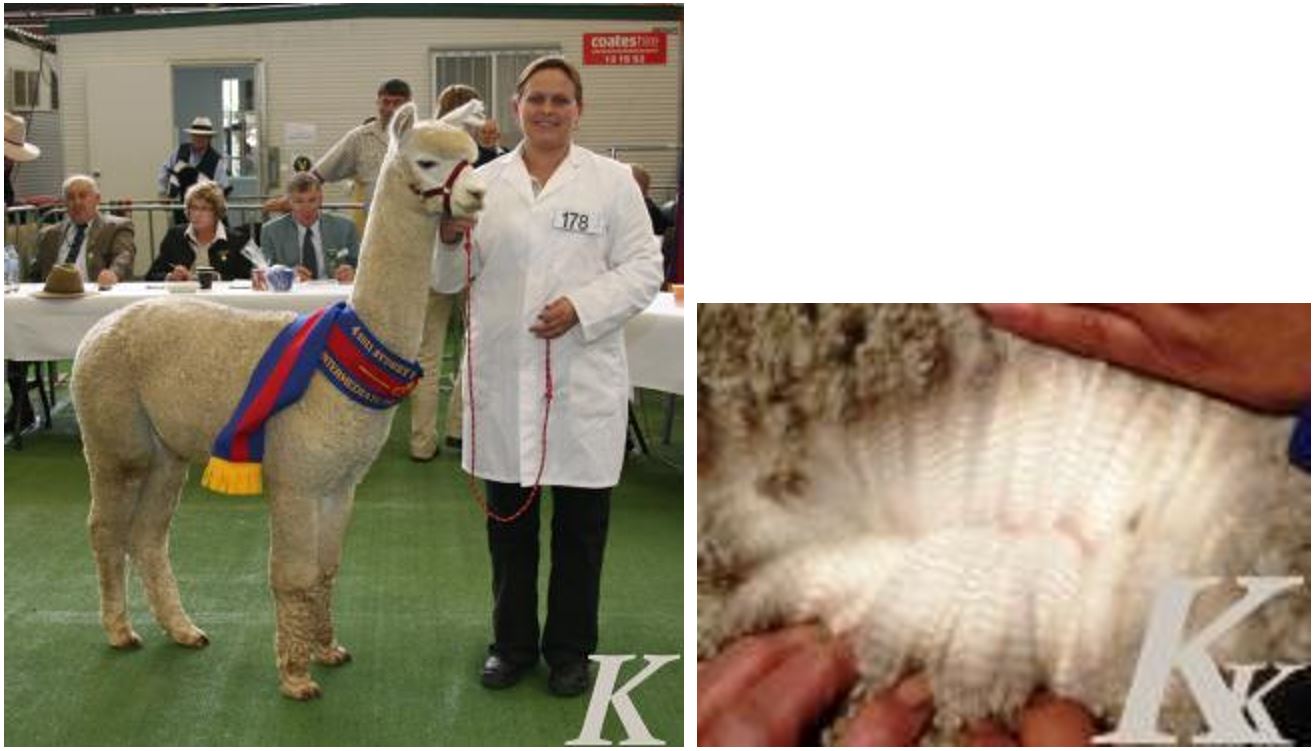 Legendary's Sire "Premier Kiwi Legend IAR No. 93600"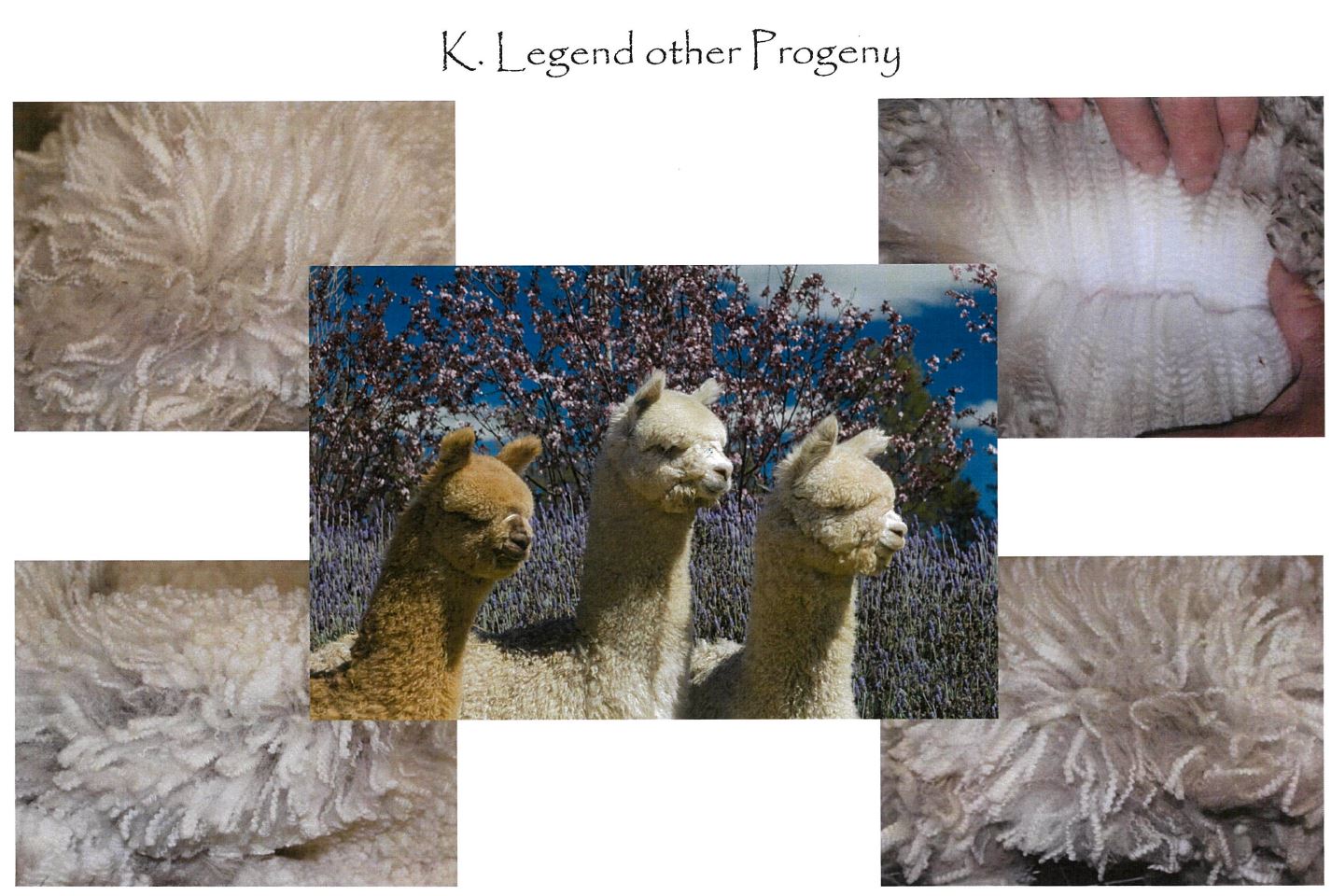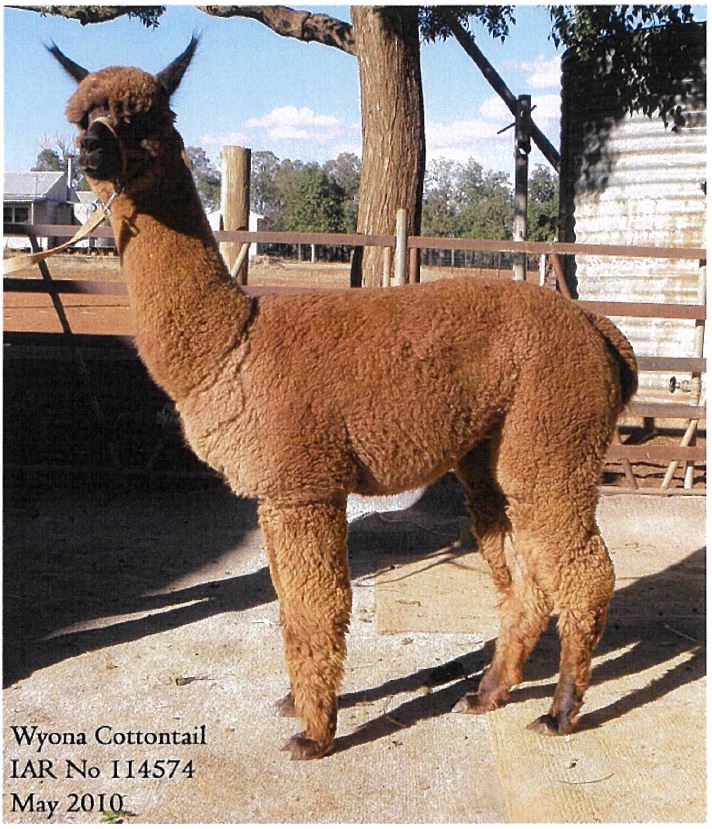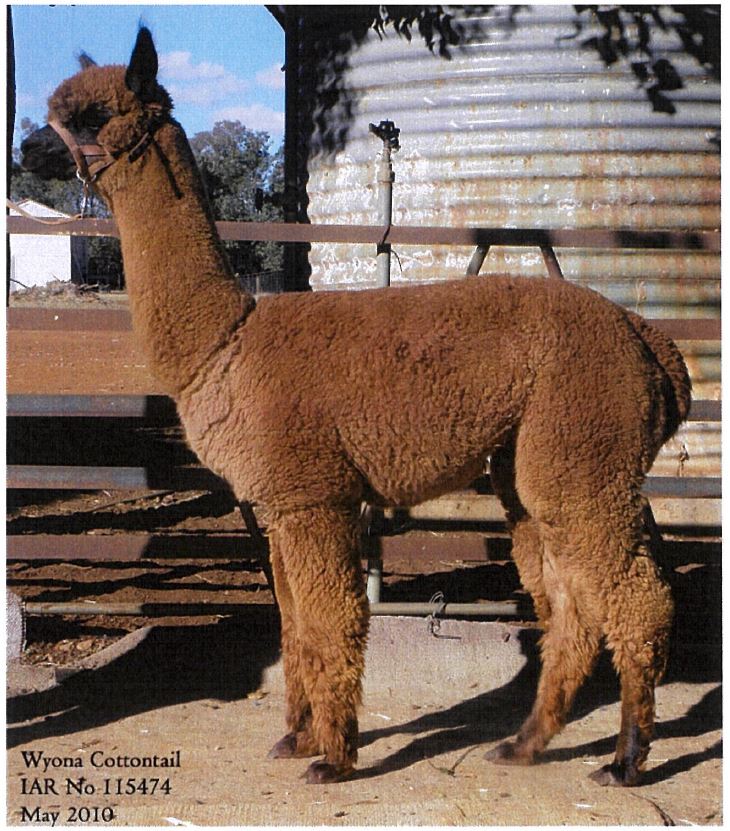 Legendary's Dam ….."Wyona Cottontail"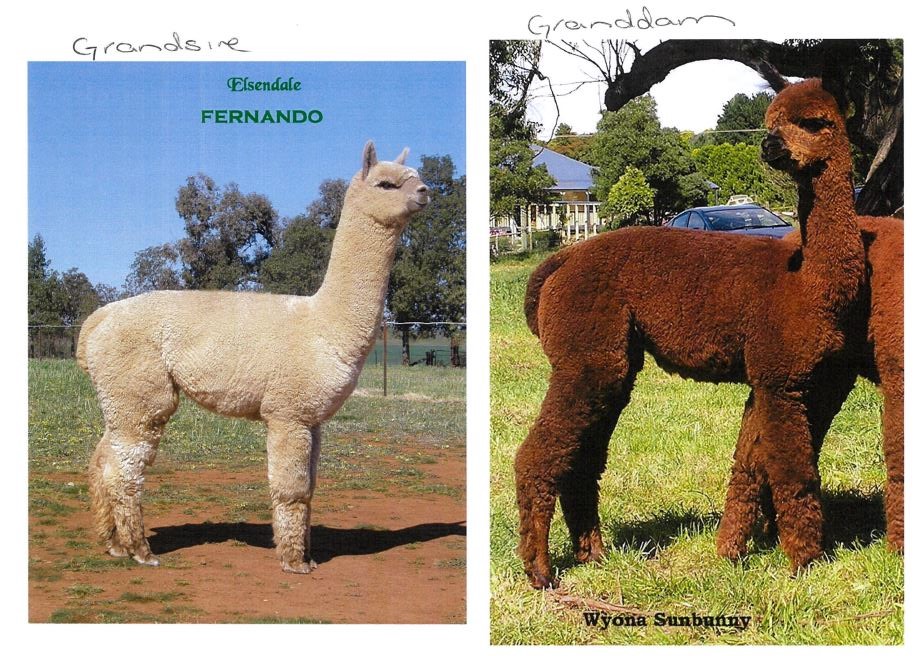 "Legendary's Grand Sire and Grand Dam"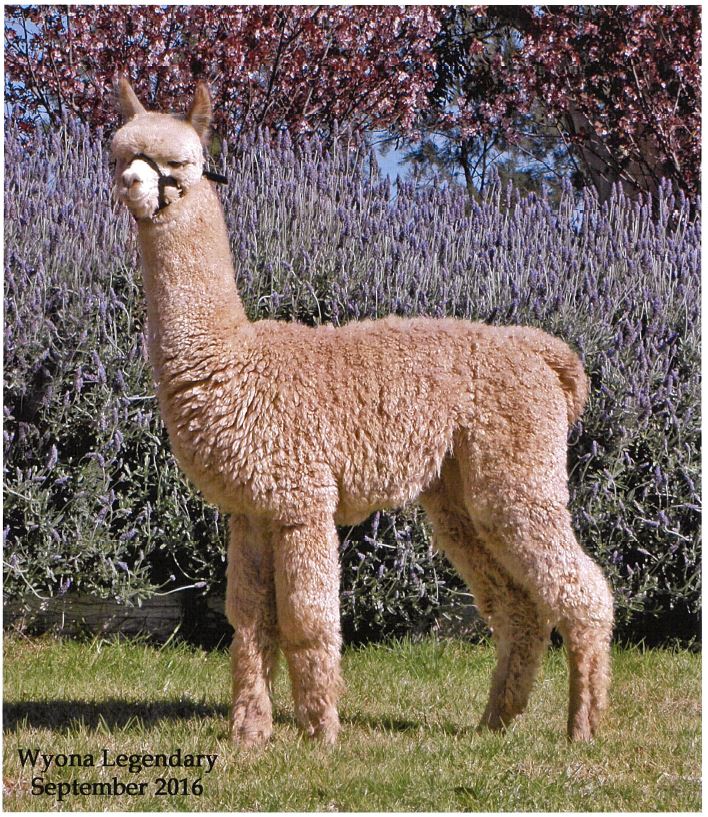 "Legendary at 18 months of age"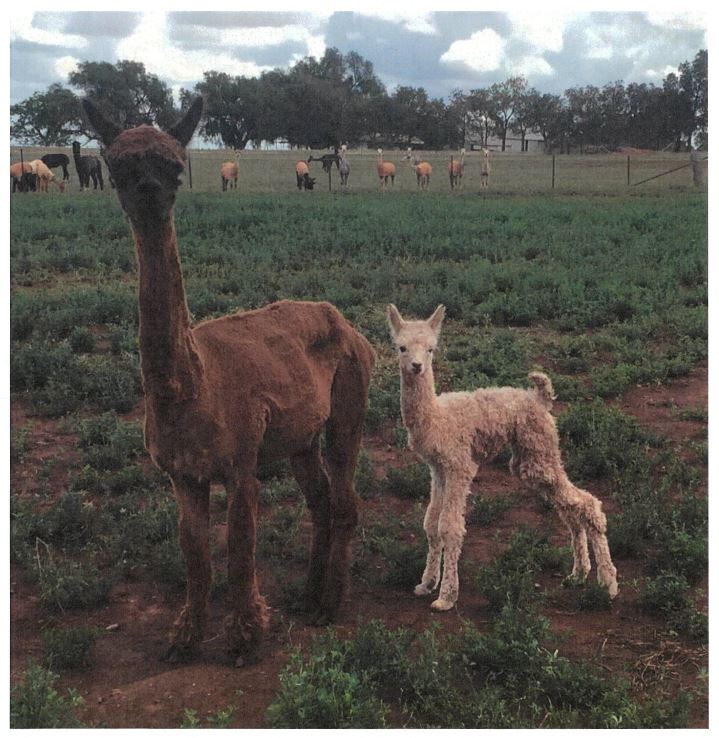 "Legendary at 1 day old"
This is what you are looking for in a new born Cria – Wonderful presence and bone to die for. Big and Strong and come out hungry …………. The fleece can develop in its own time ……
Legendary's Stud Fee: $1,000.00 +gst
Our Special Reproductive Guarantee applies to all of Legendary's Cria.