Homestead Farm Absolute
Homestead Farm Absolute was sold to us in 2016 by his breeder Russell and Carolyn Nelson and his joint owners Russell Nelson and John and Norma Bush .
We needed a new Stud Male and we could not believe our fortune when Russell and John said we could buy him.
So we purchased Absolute and he joined our Stable of top qulity Stud Males.
Absolute won Supreme Fleece at the AANZ National 2 years in a row.
His fleeces always took out championships when ever they were shown.
Absolute produces Cria with next to no guard hair whatsoever and he himself as a 10 year old male also has virtually no guard haie at all.
Absolute had only sired around 30 Cria when we bought him as a 10 year old male.
We now have a whole bunch of beautiful females all sired by him.
"Homestead Farm Absolute as a 10 year old.


Absolute has a big bold, but very heavy cutting fleece and his Cria are something special.
Absolute's Cria look fantastic from the day they are born and it is very easy to work out who his Cria are long before we look up the records.
This season (2019) we mated some of Absolute's daughters and so we are really looking forward to seeing what they produce in the spring.
Pedigree:
As you can see from his Pedigree below, Homestead Farm Absolute has a very impressive background with several of the most famous animals ever to leave Peru.
| | |
| --- | --- |
| Ident No: | HOM D0144 |
| Sex: | Male |
| IAR: | 116700 |
| Birth Date: | 11/03/2008 |
| Status: | Active |
| Breeder: | RUSSELL & CAROLYN NELSON |
| Current Owner: | ERIC LISTER |
| Current Owner Region: | Manawatu/Wanganui |
| Type: | Huacaya |
| Colour: | Solid White |
| Certified?: | Yes 21/12/2009 |
| DNA No.: | 841654 |
| Progeny: | [67 - View] [View by Herd] |
---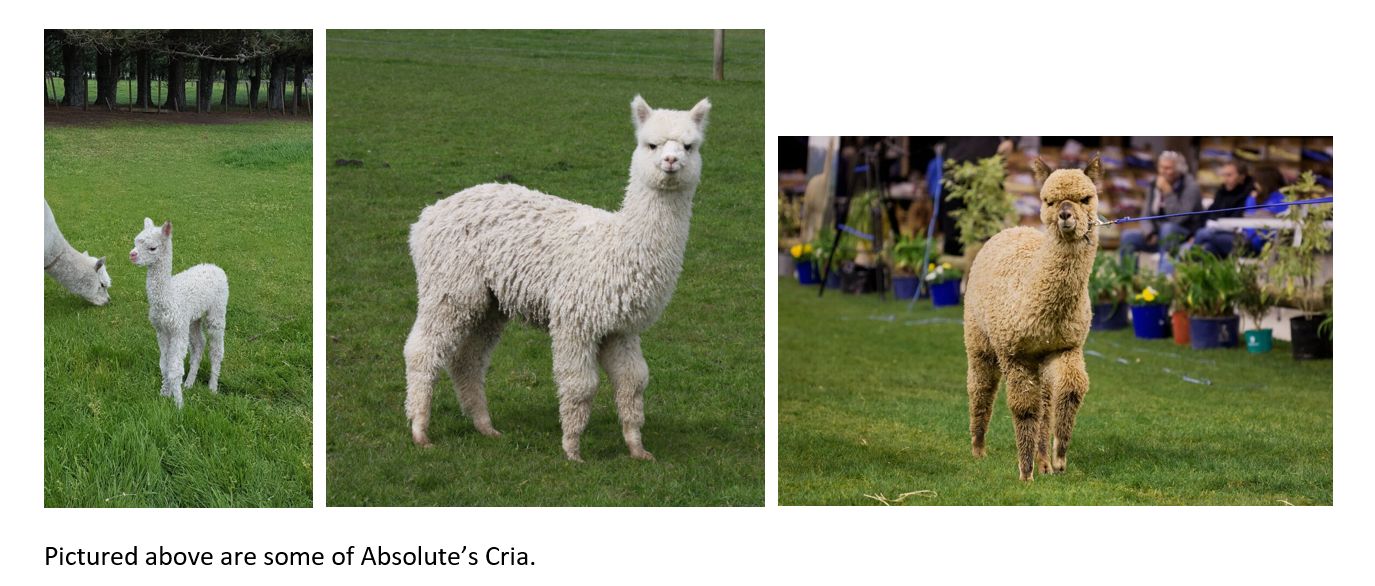 Absolutes Future Replacement:

When we mated Absolute to Homestead Farm Sophie Ella the result was a Male Cria we named
"Thief of Hearts I am Groot"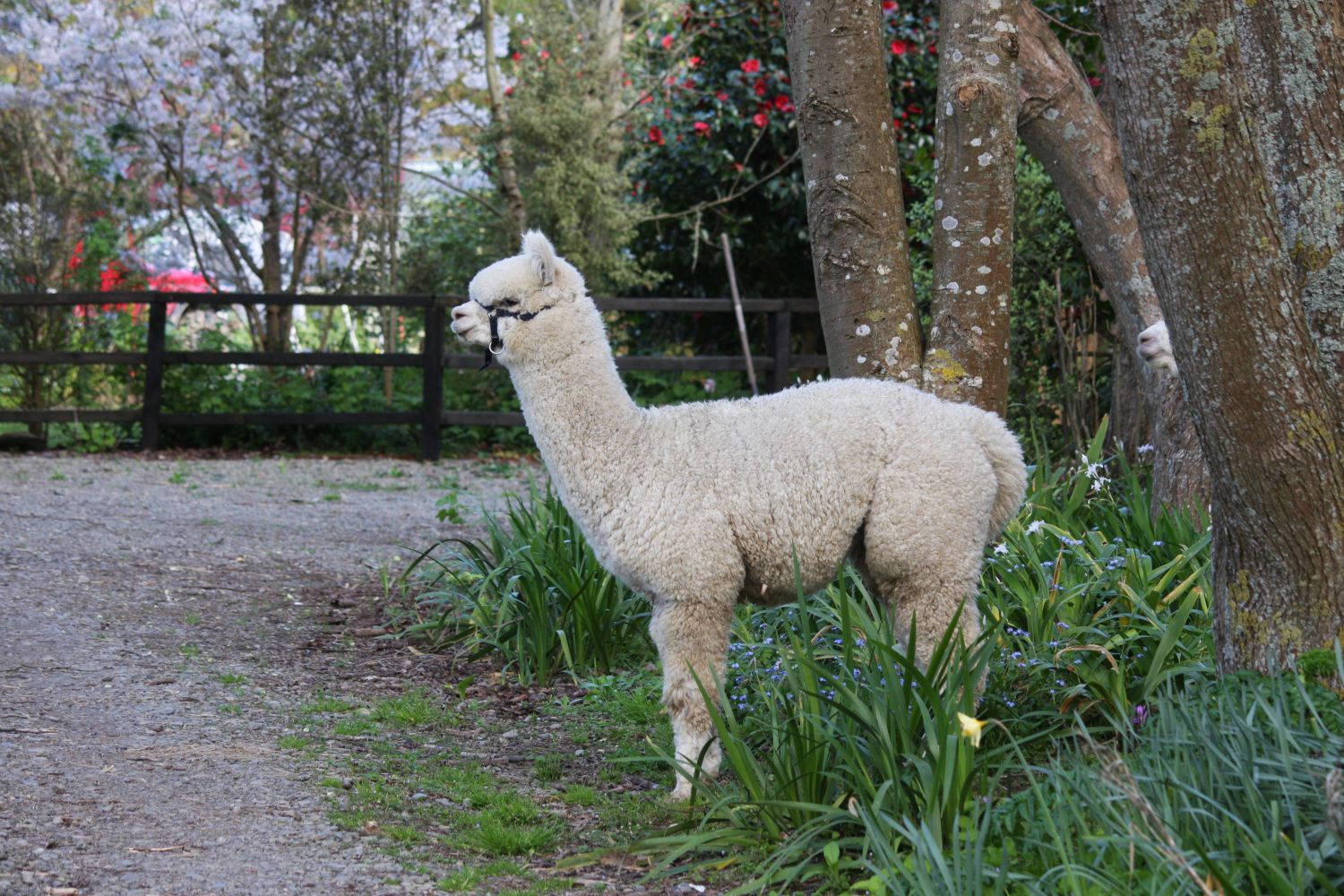 "Thief of Hearts I am Groot" will very soon become one of our top Stud Males
This boy is very exciting and we have huge expectations of him ……………….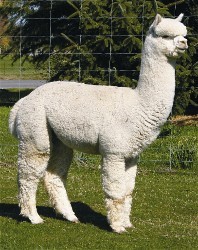 "The above Picture is of Homestead Farm Apollo – Absolutes Sire."

"Apollo won the title of National Supreme Champion in 2006 and also won Supreme Huacaya Fleece at the same show. Apollo is the only animal in NZ to have won both Supreme Breed and Fleece at the same National Show"
Apollo was a stunning 100% Accoyo Male.
With Show Credits too numerous to list and a Stud career in fullswing, he simply ticks all the boxes.
With 3 National Supreme Championships, 1 in breed, two in fleece
Homestead Farm Apollo
Sire: Benleigh Belissimo
Dam: Benleigh Debut ET
IAR: 84230
DOB: 24/04/2004
1st Fleece. Mean micron 17.53, SD 3.57, CV 20.4, C/F 99.3%, CRV 44.9 (Fleece weight 8 month Fleece 4.2kgs)
2nd Fleece. 20.42u, SD 3.51, CV 17.2, C/F 99%
3rd Fleece. 22.32u, SD 3.69, CV 16.5, C/F 97.5%, CRV 51.9
6th Fleece (2009) 21.9u, SD4, CV18.2, C/F 96.7%
7th Fleece (2010) 23.4u, SD 4.4, CV 18.6, C/F 92.4%.
Homestead Farm Absolute's Stud Fee: $1,000.00 +gst
Our Special Reproductive Guarantee applies to all of Absolute's Cria.